About Us
About The Company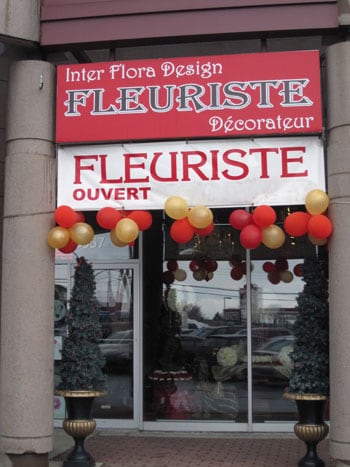 Fleuriste Inter Flora Design proudly serves the Kirkland area. We are family owned and operated. We are committed to offering only the finest floral arrangements and gifts, backed by service that is friendly and prompt. Because all of our customers are important, our professional staff is dedicated to making your experience a pleasant one. That is why we always go the extra mile to make your floral gift perfect.

Let Fleuriste Inter Flora Design be your first choice for flowers.
leuriste Inter Flora Design
3557 boul. St-Charles
Kirkland,QC H9H 3C4
Payment Options
We accept the following payment methods:
Visa
MasterCard
American Express

Contact Information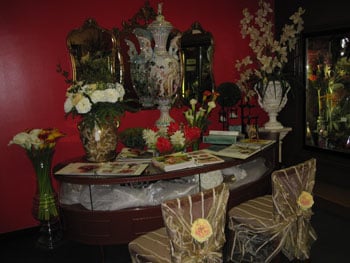 If you have any questions or need more information, please contact us directly at 514-505-0512 or (877) 505-2885. We're always here to serve you and make your flower-sending experience a pleasure.

Fleuriste Inter Flora Design
3557 boul. St-Charles
Kirkland, QC H9H 3C4
Areas Served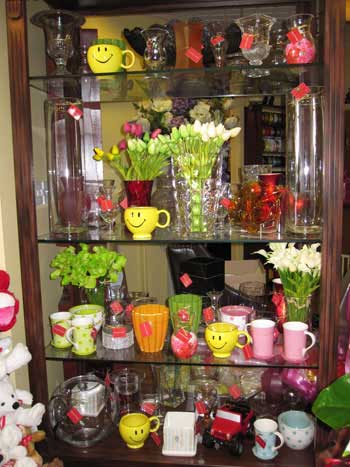 Our shop serves the following areas: Kirkland.
We also deliver to the following facilities
Aaron Maison Funeraire
Adriana Tudor
Alfred Dallaire Groupe Yves
Alfred Dallaire Inc
Alfred Dallarie Memoria
Alphi Residence Pour Personnes
Ange Gardien Orientation
Annexe 24 Ieme Avenue
Appartements De La Rive
Assistance Residence
Aubry F & Fils Inc
Batei Avos-Maison Paternelle
Beth-Reim Kosher Seniors
Blais Real
Boutique D'Urnes
Caldwell Residences
Cardinal & Neveu Enr
Carrefour Jeunesse Emploi
Centre Boucher De La Bruere
Centre D Hebergement Bon
Centre D'Accueil Heritage
Centre d'hébergement bruchési
Centre D'Hébergement Notre-
Centre De Jour 24E Avenue
Centre De Psychiatrie Comm
Centre Hosp Jacques Viger
Centre Hospitalier Ambulatoire
Centre Hospitalier De Lasalle
Centre Hospitalier Fluery Inc
Centre Hospitalier Guy Laporte
Centre Metropolitain De
Centre Notre-Dame Des Anges
Centre Visavie Inc
Chartwell Le Wellesley
Chartwell Les cores residence
Chartwell Manoir Kirkland
Chateau Dollard
Chsld Du Manoir De L'Ouest De
CHSLD Juif de Montreal -
Chsld Laval
Chsldclsc Bordeaux
CHU Sainte-Justine
Cimetiere Jardin Urgel Bourgie
Cite De La Sante De Laval
Cité Des Retraités NDF Inc
Clinique De Psychiatrie Comm
Clinique Externe Mercier-Est
Clinique Externe Mercier-Ouest
Clinique Psychiatrie J Adultes
Complexe Funéraire Des
Complexes funeraires
CSSS Cavendish
Duquette Omer Inc
Duvernay
Esterel Pointe-Claire
Expertage Inc
Feron's Funeral Homes
Feron's Funeral Homes Inc
Fondation Habitation Marcel-
Fondation Integraction-Laval
Formation Medicale Continue
Foyer Etienne
Foyer Hongrois
Foyer Vimont Pensn Pour Persns
Giguere & Tomasso Inc
Groupe Longpre
Habitation Le Bel Age
Habitations A Ciel Ouvert
Habitations Du Boise
Habitations La Roseraie
Habitations Leman
Habitations Nouvelles Avenues
Habitations Ste-Marie Inc
Harvard Residence
Hebergement Conseil
Holy Cross Comm Housing Corp
Hopital de la Cite-de-la-Sante
Hôpital deréadaptation Villa
Hôpital du Sacré-C¿ur de
Hopital Gen Juif-Sir Mortimer
Hôpital Jean-Talon
Hopital Juif De Readaptation
Hopital Maisonneuve-Rosemont
Hôpital Rivière-Des-Prairies
Hopital Sainte-Justine
Hopital Shriners Inc
Hopital Ste Therese
Hospital Fleury
Hôtel-Dieu de Montréal
Institut De Cardiologie
Institut De Physiatrie
Institut Thoracique-Montreal
Institut universitaire en
Institute Universitaire De
J A Guilbault
J J Cardinal Résidence
Jardin Commemoratif Laurentien
Jardin Des Saules
Jardins Vaudreuil
Jewish Funeral Home Chesed
Kane & Fetterly Funeral Home
Komitas Salon Funeraire Inc
L'age D'Or Residence Riviere
L'Ancien Pensionnat
Lakeshore General Hos|
Languedoc
Les Jardins De Jouvence
Les Residences Funeraires
Les Residences Funeraires Goye
Les Résidences Soleil Manoir
Les Salons Funeraires Guay Inc
M A Blythe Bernier Funeral Hm
Magnus Poirier
Maison Des Aines
Maison Des Orchidees Enr
Maison Funeraire
Maison Jean Brillant Vc
Maison Urbaine
Manoir Bois-De-Boulogne
Manoir Cardinal Inc
Manoir Chomedey
Manoir Claudette-Barre
Manoir Cote Des Neiges
Manoir De Laval
Manoir Dorion
Manoir Du Ruisseau
Manoir Hampton
Manoir Harwood Enr
Manoir L'Oasis
Manoir La Belle Epoque
Manoir Le Normand Enr
Manoir Louisiane
Manoir Marc-Aurele Fortin
Manoir Notre Dame Du Sourire
Manoir Roger Bernard
Manoir St Joseph
Manoir St-Martin
Manoir Ste-Catherine
Manoir Therese Casgrain
Module Administratif Du Nord
Montreal Neurological
Moshonas & Ouimet Inc
Moshonas Ouimet Inc
Notre-Dame-des-Neiges
Office Municipal D'Habitation
Olymbos Residence
Paperman & Sons
Parcelles De Bonheur
Park Cemetery Maintenance
Pavillon Fabre
Pavillon Marquette
Pavillon Montfort
Pavillon Tetreautville
Pension Boulay Enr
Pension Fleurie
Place Mariette
Pollack Residence
Pyramide
Rabiner's Seniors Residence
Rehab Institute Gingrasas-
Reseau De Centres De Qualite
Reseau Selection
Résidence Herron
Residence 6900 Papineau
Residence Au Fil De L'Eau
Residence Aurelie-Cadotte
Residence Aylwin Enr
Residence Begonias
Residence Boyer
Residence Champlain
Residence Charlemagne
Residence Cit? Rive
Residence De La Dolores Gagne
Residence de Prince Of Wales
Residence Des Aines L'Avant
Residence Des Boulevards
Residence Des Rapides
Residence Dickson
Residence Du Bonheur
Residence Du Confort
Residence Du Jardin Botanique
Residence Du Patrimoine
Residence Du Plateau
Residence Familiale Caron
Residence funeraire Laval
Residence Helene
Residence Hochelaga-Aird Inc
Residence Iberville Enr
Residence Jardin Du Boulevard
Residence Jarry Enr
Residence Johanne Methot
Residence L'Amitie
Residence L'Autre Chez Soi
Residence L'Eden
Residence L'Espoir
Residence L'Etoile D'Or
Residence L'Oasis De Laval
Residence La Salle
Residence Lamarre
Residence Le Renoir
Residence Le St-Joseph
Residence Le St-Michel
Residence Les Deux Aires
Residence Les Emeraudes D O
Residence Les Marronniers
Residence Liébert Enr
Residence Louis Hemon
Residence Mont-Carmel
Residence Norma Mc-Alister
Résidence Place Borden
Residence Pour Aines Lev-Tov
Residence Quatre Cent Inc
Residence Rachel Bercy
Residence Roi Du Nord
Residence Roquetins
Residence Saint-Denis
Residence Sault-Au-Recollet
Residence Sherbrooke
Residence St Emile Inc
Residence St Jacques
Residence St-Clement
Residence Strath Haven
Residence Van Horne
Residence Westhill Inc
Residences Champlain-Ctr-Vle
Residences Edmond Hamelin
Residences Edmond-Hamelin
Résidences Fulford
Residences funeraires Collins
Résidences Funéraires Collins
Residences funeraires Laurent
Résidences funéraires Laurent
Résidences Rosemont
Residences Tournesol
Richard Boudreau Maison Fun
Salon Funeraire Rideau
Sansregret T Salon Funeraire
Santa Cabrini Hospital
Services Funeraires Lacroix
Snowdon Residence
Societe Immobiliere Lavalloise
Societes Immobilieres Truscan
St. Mary's Hospital
Ukrainian Residence Of
Ukrainian Villa Of Montreal
Urgel Bourgie
Urgel Bourgie complexes
Victoria Villa
Vieux Manoir D'Ahuntsic
Villa Belle Epoque
Villa Coeur Soleil
Villa De Jouvence
Villa Du Confort
Villa Les Tilleuls
Villa Ste Rose Inc
Villa Val Des Arbes
White & Sons Funeral Home Inc
Specialty Services Provided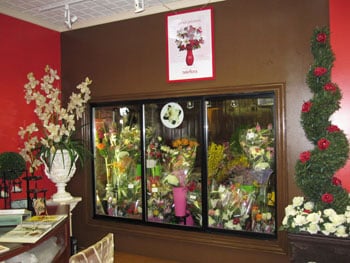 We specialize in the following services:
Large inventory of fresh flowers for any occasion
Weddings / Wedding Flowers
Sympathy and Funeral flowers
Birthday Flowers, Get Well Flowers, Anniversary Flowers
Plants
European/dish gardens
Modern and traditional flower arrangements
High-style floral arrangements
Silk flower arrangements
Dried floral arrangements
Extensive gift line
Gourmet fruit baskets
Gift baskets
Greeting cards
Delivery Policy
A local delivery fee of $12.00 will be added to each order, for each address. (For deliveries outside our local delivery area, this fee may vary.)

U.S. orders must be received before 4:00 p.m. in the recipient's time zone to assure same-day delivery. Orders received after that time will be delivered the following day.

We will do our best to accommodate deliveries at specific times of day, but we cannot guarantee it.

We are unable to make deliveries on Sundays. Deliveries requested on this day will be delivered the following business day.

Delivery of orders to rural route addresses or cemeteries cannot be guaranteed.

We will be happy to accept your international orders if you call our shop directly. We are unable to accept international orders over the Internet.
Substitution Policy
Occasionally, substitutions may be necessary to create your bouquet due to the availability of certain flowers in various parts of the country. Care is taken to maintain the style, theme and color scheme of the arrangement, using flowers of equal value. Additionally, the substitution of certain keepsake items may be necessary due to increased demand, especially during major holidays. In single-flower arrangements, such as an all rose bouquet, or orchids, we will make every attempt to match the flower type, but may substitute with another color.